Systeme.io vs Kajabi – Which one is the right tool for your online business?
Looking for a side-by-side comparison of Systeme.io vs Kajabi to make an informed decision?
If yes, you are in the right place.
Here are what I will be covering in this article:
An overview of both platforms,
Side-by-side features comparison.
Kajabi vs Systeme.io – overview
Systeme.io and Kajabi are both all-in-one platforms you can use to run your entire online business in one place.
No matter if you are looking to start or scale your business to the next level, you will find your way with both tools.
With their Stripe and PayPal integration, your customers will always have an option to pay for your products or services by using their preferred payment methods.
A quick Systeme.io review and Kajabi review will tell you that both have almost the same tools suite.
Here is the tools suite both platforms offer:
But when we take a look at the features and pricing each platform offers we will see a big difference between both platforms.
In fact, Systeme.io is a beginner-friendly tool that focuses on simplicity and affordability and helps people sell their products.
Kajabi on the other hand is a complete all-in-one platform that focuses on helping entrepreneurs deliver their content.
They offer certain features like App, a CRM, pre-built course templates, and more email marketing integrations than Systeme.io.
But their pricing is a bit expensive.
Kajabi has over 6 years in business while Systeme.io has 3 years in business.
So Systeme.io is still in its growing phase and they are still working to improve the platform.
With over 1 million paying customers,
Systeme.io Kajabi – Pricing
When it comes to pricing, Systeme.io vs Kajabi is like comparing Apple with Microsoft.
Systeme.io pricing
As I said previously, Systeme.io is an affordable all-in-one marketing tool.
First off, Systeme.io offers a lifetime free membership plan which comes with useful features and benefits.
With the Systeme.io free membership you can:
When it comes to their premium membership, they offer 2 membership plans and the basic plan costs $27 per month.
The highest plan costs $97 per month – giving you access to all the features and tools they offer + free coaching sessions and migration of your entire business.
You can read my Systeme.io review to learn more about this tool.
Kajabi pricing
Kajabi doesn't offer a free plan. But they offer a 14-day free trial. That allows you to try the tools before you decide to invest.
Their premium membership plan starts at $149 per month.
With your $149 per month investment, you get access to:
As you can see with only $97 per month you get access to all the tools and benefits Systeme.io offers.
On the other hand, with $149 per month, you get basic tools and feature limitations with Kajabi.
So the winner here is Systeme.io.
You can read my Kajabi review to learn more about this tool.
Systeme.io vs Kajabi – key features and benefits
course builder
With both platforms, creating online courses is easier than ever. It is easy to create and organize your course content with their drag-and-drop builder.
You can upload your video directly to their platforms or use a third-party video hosting service like Vimeo, YouTube, etc to host your videos and then embed them in your course.
Plus both tools allow you to design your course member area as you want.
And the best part, they make it easier to market your online courses. With useful features such as 1-click upsells, free trials, coupons, abandoned card follow-ups, and subscriptions, you can turn your skills or knowledge into a profitable online course.
And when it comes to giving access to your course to students, both Systeme.io and Kajabi handle everything by giving you the time to focus on your marketing.
Systeme.io course builder Pros
Systeme.io course builder Cons
Kajabi course builder Pros
Kajabi course builder Cons
Who is the winner?
Both tools allow you to create and sell courses.
Systeme.io gives you access to all the tools suites you need to run your online business in even their free plan.
Plus Systme.io offers unlimited members and products while Kajabi on the other hand limits the number of products and students you can have with your membership site.
For example with the basic plan that cost $149 per month, you can only sell 3 products with 10000 students.
But here are things Kajabi has that you won't find on Systeme.io. Kajabi course builder on top of the quizzes builder comes with student engagement reporting and a community management tool. Something which is missing on Syteme.io.
Systeme.io sales funnel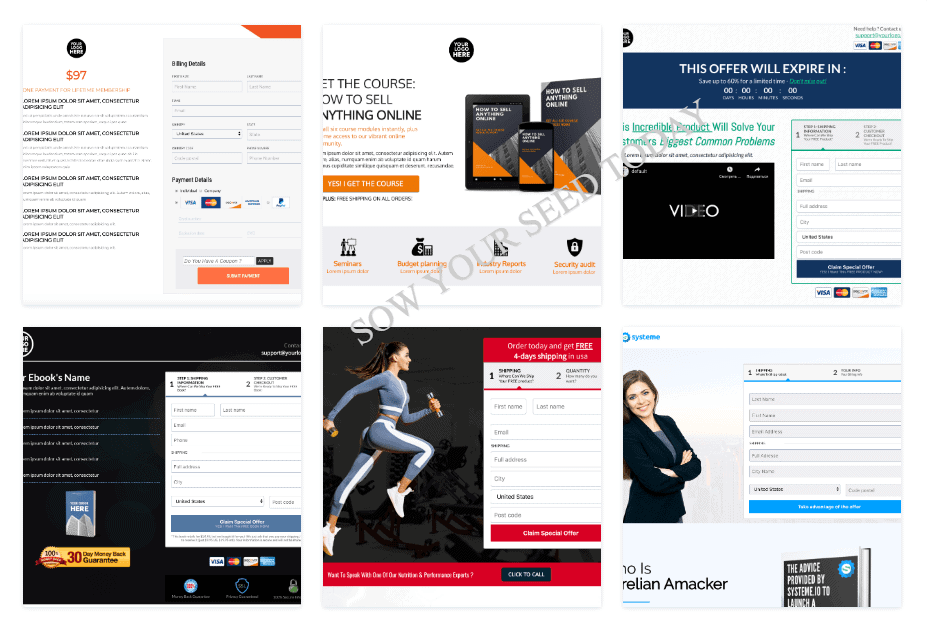 Systeme.io offers a sales builder tool you can use to create landing pages and sales funnels to efficiently market your business.
No matter if you are looking to build lead generation funnels or sales funnels to sell your products, Systeme.io gets you covered.
If you also want you can build your funnel from scratch.
Kajabi Sales Funnel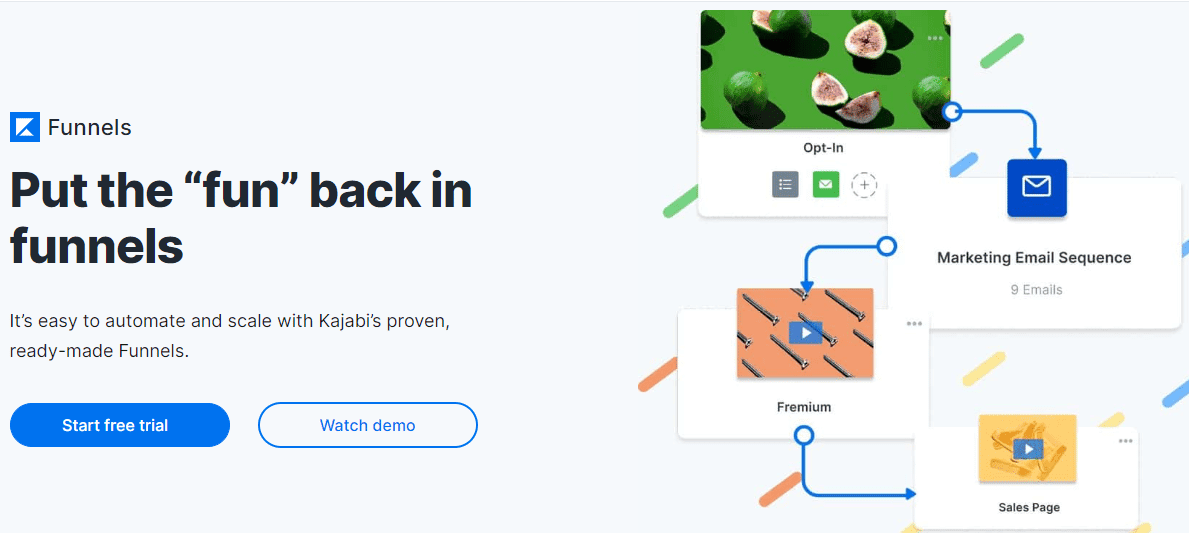 Kajabi also provides a sales-building tool you can use to create pages to sell your products.
With Kajabi you can build any kind of funnels such as lead generation funnels, product launch funnels, or webinar funnels.
Just like Systeme.io, they offer pre-built templates you can pick and customize to make it fits your brand needs.
Or you can start building your funnels from scratch.
Systeme.io email marketing and automation
Email marketing is an effective way to market your business and also to stay in touch with your customers.
Both platforms offer email marketing and automation tools you can use to create and send newsletters, broadcasts, and drip email campaigns…
With Systeme.io you can build up to 2000 subscribers for free.
And the best part is that you can use tags to segment your list, use their drag-and-drop visual workflow builder to build drip campaigns to engage your subscribers and then turn them into lifetime buyers.
Kajabi email marketing and automation tool
Kajabi allows you to build up to 10000 email contacts with their basic plan.
You can with their email marketing and automation tool segment your list by using tags and build drip campaigns with their drag and drop builder.
A great way to deliver the right message to the right person at the right time.
Website Builder
Both Systeme.io and Kajabi allow you to create websites or blogs to grow your business organically.
They offer an easy-to-use website builder you can use to create stunning websites to showcase your services or products without writing a single line of code.
Their builders are SEO-friendly. That gives you the ability to optimize your pages and drive organic traffic to your website.
When it comes to branding both builders allow you to connect your own domain name instead of using their system domain.
However, with Kajabi, you will not be able to get rid of their branding of your pages or websites if they are on their basic plan.
The best part is they have dozens of pre-made templates you can pick, customize with your branding color, graphics, and copy, and then launch your business faster.
Because of this limitation, I make SIO the winner here.
Kajabi vs Systeme.io: Pros and cons
Systeme.io pros and Cons
Kajabi pros and cons
Which tool to use for your business?
Both tools have all the tools a business owner would need to start and grow an online business and they come with affiliate management systems which is a great way to grow your business faster.
I recommend Systeme.io if you are on a budget and looking for an all-in-one marketing platform to start or grow your business.
Recommended if you need an easy-to-use tool and a value-for-money tool.
Not recommended if you need a platform that offers third-party integrations like pairing your sales funnel with email marketing tools like Getresponse, Aweber, Mailchimp, etc. But keep in mind their email built-in email marketing tool also works fine.
I recommend Kajabi if you are not on a budget and are looking for a platform that focuses on marketing like multi-channel integration and third-party integrations.
Not recommended if you are just starting out, don't like having another branding on your pages, and are not ready to invest in the higher plan.
Kajabi and Systeme.io alternatives
CoreX Funnels – CoreX Funnels is an easy-to-use and beginner-friendly platform that allows you to create sales funnels, websites and blogs, built-in CRM and email marketing tools, etc.
It comes with a 14-day free trial. When it comes to membership plans, the basic plan starts at $37 per month for 1 website and 1 funnel.
Clickfunnels – Clickfunnels is an all-in-one platform with comes with course builder tools, sales funnels, blogs, and marketing tools. Its basic plan starts at $97 per month with feature limitations.
Final thoughts…
Both Systeme.io and Kajabi offer tool suites you can use to start, grow and scale your online business under one roof.
As you know there is no one fit for all tools out there.
So you have to consider your business needs and sure your budget to determine which tool is the right one for your business.
That being said, I hope you found my Systeme.io vs Kajabi comparison helpful.
Which tool are you using for your online business? Let me know in the comment section.
Be An ACTION taker, SOW YOUR SEED TODAY!
To your success!