Hey, just a question! Would you be ready to invest $997 to join an MLM program?
It depends. Right?
If you will get value for the money you put in, you will. Otherwise, nope!
Right?
If you are looking for more information about The Perfect System or the SimpleCashDaily.com program to make an informed decision you are in the right place.
In this The Perfect System review we will delve deeper into the following points so that you can know if this program, also known as SimpleCashDaily.com is a scam or legit:
What is The Perfect System about?
How does it work?
The cost to join the program,
What you get for your money,
The compensation plan,
The pros and cons and my final point of view.
I am sure by the end you finish reading my SimpleCashDaily.com review you will know what to do to shape your future finance.
But before you dive in, make sure you check out this program to find out how previous struggle marketers are making $100 a day.
The Perfect System Review – company overview
Company Name: The Perfect System aka Simple Cash Daily
Owner: Bill Anderson
Website: https://simplecashdaily.com/
Product/service: eBooks
Cost: $997 upfront fee then $40 per month
Is The Perfect System a scam or legit? Not a scam per se, but the business model is not legal
Sow Your Seed Today rating: 3/10
Do I recommend this? No.
What Is The Perfect System about?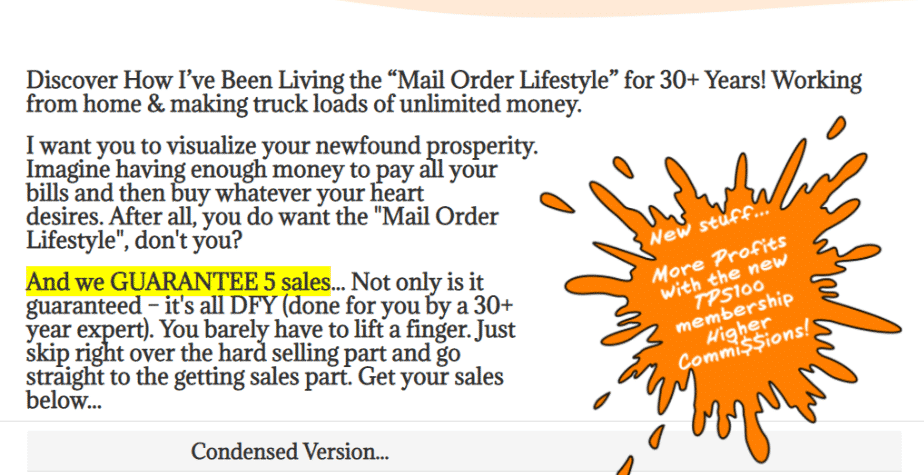 The Perfect System is a 2 tiers affiliate marketing program where the owner promises to give you 5 guaranteed sales when you invest a damn $997 in his program.
According to the owner, he has over 30 years of experience in digital marketing and he has done all the hard work for you.
All you need to do Is to invest $997, go to bed, relax and wait for him to generate your first 5 sales for you. That will be making a $1495.50 commission without you even lift your hand.
Sound good! Right?
But the meaningful question is that is The Perfect System really a perfect program to make easy money without any work? Or it is just a bold claim?
Is Simple Cash Daily really a simple daily cash flow generator or it is another hyped program where the owner aims to dry out your pocket?
Stay with me till the end of my The Perfect System review to get answers to these important questions.
Above the claim, what is exactly Simple Cash Daily aka The Perfect System is about?
You know the owner is holding important information with people he targets.
He makes the program sound good, easy, and a quick way to load your bank with cash.
It is easy to fail on the trap if you think can just invest your money and watch your income grow as they claim.
He knows exactly what most people nowadays want: An easy and fast way to make money without any effort.
And if take a close look at the sale page, with an open mind, you will find out the owner tries to convince you they The Perfect System is not an MLM program but just a 2 tiers affiliate program.
Let's get this claim out of the road before we move on.
Is this program a 2 tiers affiliate program?
The answer is a BIG NO.
Why?
Let's get into the definition of what 2 tiers affiliate program is.
First off, an affiliate program means it is free to join. Yes, you read me right. An affiliate program is free to join.
And 2 tiers affiliate program means it is free to join and you will be paid not only on your direct referrals or customer sales but also on their referral purchase.
That means you will be making a percentage of your referrals earnings or sales based on the merchant rules.
If if you don't trust me, let me show you 2 tier affiliate programs out there that are free to join and where you can be making hundreds of dollars without the need to being a customer.
GrooveFunnel offers a 2 tiers affiliate program – the minimum commission per sale is $400 and it is free to join.
System.io offers a 2 tiers affiliate program – it is an affordable ClickFunnel alternative and a low-ticket program but you will be making a residual income. So it adds up over time and you can end up making thousands of dollars and passive income from it.
And let me tell you these 2 programs are free to join and you will still make money when your referred customers make money.
Now you can see by yourself that what the Perfect System owner tries to make you believe is not founded.
Because it is an MLM program that requires you to buy the product first to qualify for a commission.
Trust me I have nothing against MLM. I myself promote MLM products. But trying to fool people with such a claim is not ethical in my opinion.
But I understand. Because he knows most people don't like MLM businesses. He also knows they like push-button systems to make quick cash. What doesn't exist?
That being out of our road, let's now find out if your 5 sales are a guarantee.
This is very hard to prove.
But you know don't take these claims for it.
If the Simple Daily Cash owner can really make 5 sales for every member who joins the program, why does he need your money?
He can just go to the bank and loan money to make cash silently without showing his face online.
Right?
In my opinion, the owner is holding important information here.
This is another too good to be true program.
But unless it is your first time on my website, I am not the kind of blogger that just stays on the superfluous.
So I dogged deeper in this program to find out if really their claims can be held or not.
Another thing you must know Is that there are other medium-high tickets products inside the program itself such as:
The TPS100: this is another MLM program that pays down to 2 levels and the minimum to participate is $100 per month.
Silver Partners for Profit – cost $495 to participate.
Touchstone Success Network – This one will cost you an extra $35 and then $25 per month.
Icanget2 – This one will cost you an extra $29.95 per month to join.
98 Unlimited – cost $980 per month
. And finally settled on his personal brand of "Network6000" a few years ago.
However other than his Network6000 and The Perfect System, I couldn't find any past MLM experience for him. Although he is quite popular on several of the BBQ site and scenes. Seems he can cook.
How does the Perfect System aka Simple Daily Cash work?
The Perfect System I an high ticket MLM program. The entrance fee is $997.
Inside the system there are other programs, users can join. And not joining these programs seems missing opportunities because, if the ones you bring in these programs join them before you, you will not get the commission.
Here is how the program works in a nutshell:
You pay your entrance fee of $997 to join the scheme.
He does the marketing for you by searching for 5 people who will be ready to invest the same amount of money to join the program,
He goes ahead and finds 5 people (ready to invest the $997 fee) for each of the 5 people he brings to you. In other words, he builds your team for you.
You get paid 10% for your direct referral investments, and also your direct referrals' referrals investment.
Note that inside the program there are other medium-high ticket products you can join. That way when your referrals also join these programs you get paid for a commission.
We call this kind of program affiliate feeder programs.
And the downside of these feeders programs is that you are required to join them if not it is like you are missing opportunities. That leads most people to lose more money in such programs.
They will always say it is not mandatory to join these programs. But the truth is, for example, if you don't join and you bring someone who joins it before you, you will not get paid. and this is a trap and unethical trick scammers use to fill their pockets with more money from new members.
Also, read Legendary Marketers review.
How much the Perfect System cost?
I briefly touched this point in this Perfect System review.
The Perfect System costs a $997 upfront fee and then $40 per month. They claim this amount of money is used for advertising purposes.
Can you trust someone that makes a promise such as "trade $997 with $1495.50"?
Don't let this guy fool you with this promise.
When he says your 5 sales is a guarantee, know that he also says it is not a get quick scheme. That means you can be waiting for months or even years to get your 5 sales (sure if he holds on to his promise).
Is it all your expenses if you join this program?
The answer is yes and no.
Yes, in case you are not ready to invest your money in the others programs (I call affiliate feeder programs). If you are ready to pass by commissions to your referral and if you know the way you can advertise this scheme without spending money in ads (like if you have your own site like the mine that attract free traffic), then the $997 upfront fee then the $40 per month is all your expenses.
But if you want to join the other programs inside the Perfect System, then you have to be prepared because they are middle-high ticket products. And the amount of money you will be spending depends on the number of programs you will join and the ways you will advertise your business.
I already mentioned the programs inside the Simple Daily Cash program and the one they emphasize is the PSP100 program that costs $100 per month.
Adding $100 per month to the $40 per month, you will be paying the $997 upfront fee + the $140 per month for both programs.
If you have marketing and recruiting skills to bring other people without investing in paid ads, then your expenses are limited to the feeder program you will join, your $997 upfront fee + the $40 per month membership fee.
If you don't know how to advertise your business, they have a traffic rotator program where you can get clicks – $1 per click.
Note that there is no guarantee these clicks you get will generate sales. The downside with this kind of advertising is that the traffic is not targeted. That leads to a low conversion rate.
Also, read The Entre Institute review.
What do you get for your money?
For your $997 out of your pocket, you get a promise to 5 sales with a 10% commission for each sale. That is a total of $498.50. Note that each member joins the program with the same promise. So Bill Anderson has to find 5 referrals for each of your direct referrals. That is a total of 15 referrals. Since you get paid down to 2 levels with the same commission rate, you will be making $1495.50. This is what he calls trading your $997 for $1495.50.
Plus you get downloaded PDF files. See images below.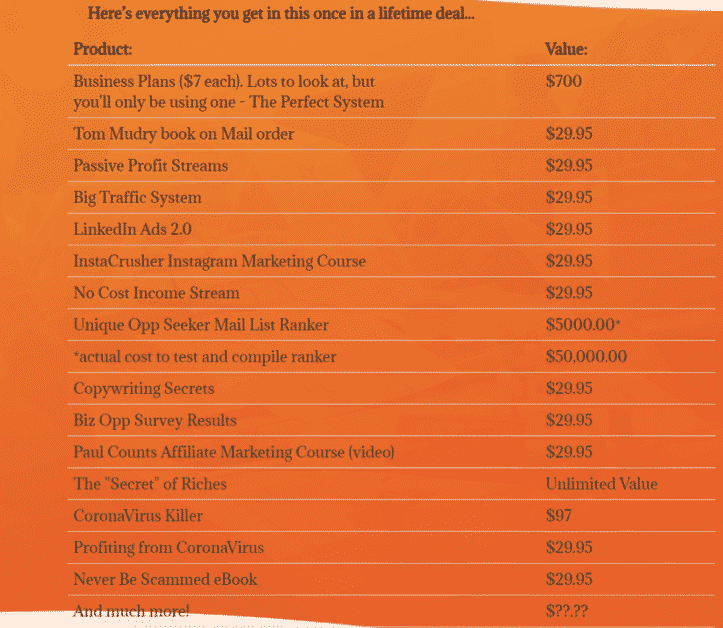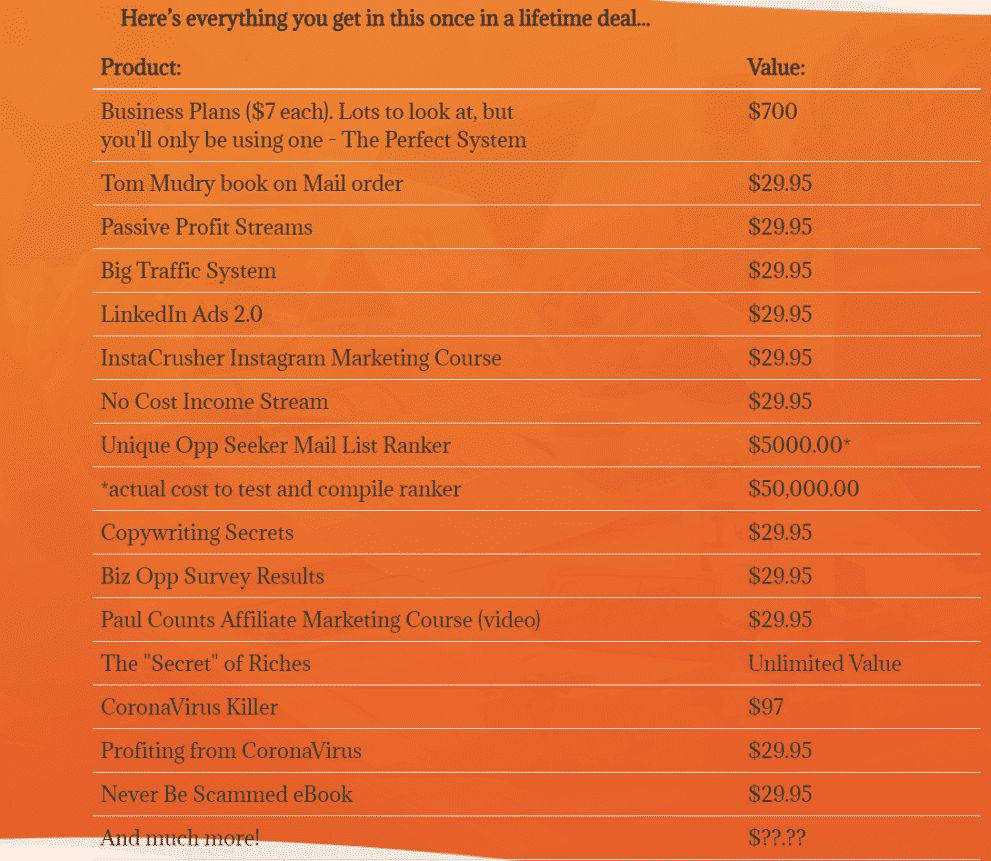 The Perfect System's products
The Perfect System owner claims they have training materials and PDF files inside users' membership area and this the reason they charge them $40 per month. This is a great thing if the products are valuable and worth the cost.
But the meaningful question is that are these PDF files worth the $40 ongoing monthly fee?
Another question – Do the products (PDF files), members market to make money or it is the membership?
The truth is, the Perfect System doesn't have retail products members can market to make money. And according to the FTC, any MLM company that generates money based on recruitment only is a pyramid scheme. See the screenshot below for evidence.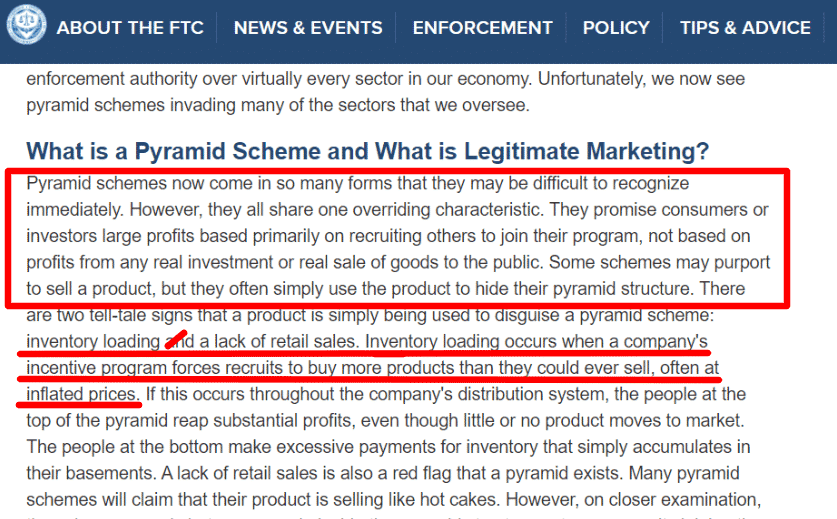 That is illegal in some countries like the US.
Who will be ready to invest $997 and then $40 per month to access simple PDF files?
The way people make money here is by recruiting other people to the scheme. Not selling retail products.
The Perfect System Compensation Plan
The Perfect System compensation is based on a uni-level compensation and the initial $997 affiliate membership pays a 5% commission down to 2 levels.
Uni-level compensation plan means members can refer as many people as they can in their first level.
The ongoing monthly $40 fee is paid at 40% across two levels.
Also, read Savage Affiliates review.
Is the Perfect System a scam?
The Perfect System is not a scam per se. But it is not a program I would recommend either.
In fact, not only it is a high ticket product without any value in return apart from the 5 guarantee sales promise, but also it is a pyramid scheme. And we all know the math behind these schemes.
The Perfect System pros and cons
The Simple Daily Cash review – the Pros
Real person behind it,
Possibility to make money if you can sell high tickets product and recruit,
The Simple Daily Cash review – the Cons
Typed and bold claims,
The owner holds more important information to people,
You need to recruit to earn,
Feeder programs are a trap,
Lack of transparency and bad sale tactics,
High-risk investment.
Do I recommend this?
I only recommend products I know will give value to my readers.
Contrary to his claim, in my opinion, the owner is trying to just make money from you, not helping you make money.
And since there is any value provided for your damn $997 but just a promise of 5 sales, my advice is to stay away from this scheme.
You will be doing great if you use your money to build your own affiliate marketing business, eCommerce, or any business you own and have control over than putting your money in someone else hand.
Affiliate marketing is the way millions of people (including myself) do to make passive and sustainable income online.
And the best part, the start-up cost is very low while the potential income is high. The sky is the limit.
And know that you can promote high ticket products and make a huge commission without spending your money on the program itself.
Plus the difference here with the Simple Daily Cash aka the Perfect System is that you are free to work with any company you want, you have the control of your business. Plus your business is your asset.
However, if you invest your money in this program you depend on the program. The day the owner decides to close it and create another scheme, you lost all your hard work.
How do I make money online?
I make money promoting other people's products. For example, if the Simple Daily Cash program is a program that worth it, I will be recommending it to my readers. And when they buy it I will make the 5% commission promised.
Affiliate marketing is easy like this.
But since it is not a program I found value in and know most people will be losing money on it, I just show the fact about the program and leave the decision to you.
Instead of depending on one program, I promote products that add value to my audience's lives and get paid a commission.
And if you want, here is the platform that changes millions of people's life (including myself).
With this platform you get:
Affiliate marketing training course that teaches you to step by step how to build your own affiliate marketing business and then turn it into profit,
Plus you get tools such as web hosting, keyword research tool you can use to build your online business.
Simple Daily Cash Review – My final thoughts…
Bill Anderson makes this program sound good. Unlike traditional MLM where members are required to recruit in order to make money, here Bill promise he will use his 30 years of marketing experience to recruit people for you. In other words, he is the one that will build your time for you so that you can enjoy your life.
In case you don't know it, it is a marketing tactic just to get you on the board.
If you found this program is what you need you can go ahead and join it. But don't say I didn't warn you.
Again put your money in something you have control on. Like starting your own online business. Or investing in yourself – in your education.
That being said, I hope you found my " The Perfect System review" helpful.
Do you have a question? Or any experience to share with us, let you know in the comment section below.
Be an ACTION taker, SOW YOUR SEED TODAY!
To your success!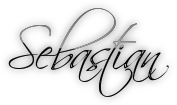 You may also like…
This is a step-by-step Aweber tutorial on how to use their email marketing software to…