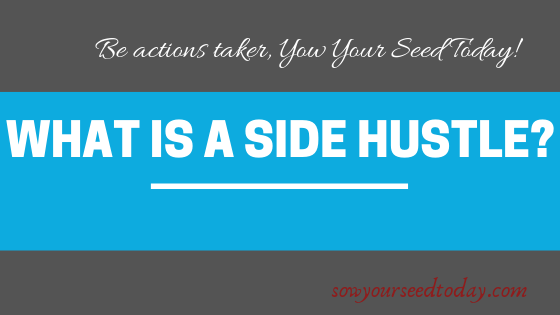 The man by nature is always looking for ways to improve his living conditions. He always seeks to move forward, to progress in all aspects of his life. This is why even in the professional life area, many full-time workers do not hesitate to start a Side Hustle on the side.
And nowadays, it is millions of employees who have their side hustle that provide them with a large income. Others have started their side hustle and now work full-time.
If you want to start your side hustle too, you are in the right place. Because this site is designed to inspire, teach and help you to get started.
Do you want to start your own side hustle now? Then click here to get started right now!
If you have heard of it and you don't know what a side hustle is, you are also in the right place. Because I will help you through this post not only to understand what a side hustle is but also to give you some stips you should consider to succeed in your journey.
It is often said that only animals are satisfied with what they are given.
Some will think: but doesn't the Bible teach us to be satisfied with what we have?
If that's what you think, let me ask you that question: Does contentment encourage laziness?
Click here to learn what the same Bible said!
What is a side hustle?: definition
A side hustle, in general, is a business that you do on the side of your day job or main activity in order to earn an extra income. The goal of a smart side hustler is to build a scalable business, which can lead him to take early retirement or set up on his own account when this side hustle really provides him with a significant income. So it's time we made the difference between a side hustle and a part-time job.
Side hustle vs Part-time job
Common points
A part-time job, as well as a side hustle, is an activity that can be done in your free time in order to earn extra income.
So their common point is based on:
The time devoted to the activity (free time)
The purpose of the activity (to earn additional income)
It's always the time exchange here.
Part-time job = free time exchange for money.
Divergent points
A part-time job provides us with an income, but it is not a scalable business! Anyone who does part-time job exchanges his free time for money. This means that this person is obliged to work in his free time in order to earn money. If he stops working, he has no money.
In addition, in a part-time job, you always have an employer who often decides your working hours? how much and when you will be paid. So there is a lack of total freedom in this case.
However, a side hustle allows you to be free: to do what you love and when you want!
It is, therefore, a business model that we practice on the side and that provides us with an extra income at the beginning, but which over time can turn into a real business that you can devote yourself to full time. Here the goal is really to achieve financial freedom, to build a passive income.
How can I succeed as a side hustler when working full-time?
1. Find a profitable side hustle business idea.
A side hustle business idea is a business idea that you can implement in addition to your full-time or day job and take profit from it.
The point here is to find an idea that can help you combine your side hustle with your current job.
And to find such an idea you don't need to invent the wheel. You can simply base yourself on your passions, talents or professional skills, etc.
Ask yourself these questions:
What are you passionate about?
What talent or competence do you think you can put them at the benefit of others?
Is it possible to do that in addition to your current job?
These are questions that you will have to answer. This will allow you to come up with a certain number of ideas.
Another point to consider if you are looking for a profitable idea is to detect a gap or need. What are people constantly looking for? What problems do they have?
And once the gap or the problem has been detected, find a solution that fills this gap or solves this problem by setting up your side hustle project on it.
If you are convinced that a side hustle can be useful to you and help you live your dream life, then start finding a profitable business idea.
Search and you will find. It can be blogging, starting a youtube channel, writing an ebook, etc.
Related post: How to find a profitable business idea for your online side long-term business.
2. Set a goal for your side hustle business
Once you have found your business idea for your side hustle project, set up a goal.
Having an objective or goal for your project is very important. A clear and precise objective must be determined from the outset. This will help you stay focused on your goal.
What result do you plan to achieve in 6 months, 1 or 5 years?
3. Determine what motivates you
There are always deep motivations for our actions. Identify the reason that motivates you to start a business on the side will help you stay motivated when difficulties appear.
Make sure that these motivations are in line with your personal values.
Why do you want to start your side hustle project?
Is it to have more freedom in the future or to make you more money?
Is it to test your idea or is it to leave your current job that doesn't give you any satisfaction?
You need to know your "WHY"!
4. Plan your tasks & manage your time wisely
Starting a business on the side of your day job can be a real challenge. It can be really stressful.
As you know, most of your time is spent on your day job. This means that you do not have enough time.
That's why you need to manage your time wisely and do the things that really matter to you.
List and plan your tasks and prioritize them and then devote your best time to them.
Doing so will help you to be more productive.
For example, if you want to build a website, you can list tasks as follows:
1. Choose a domain name and buy it,
2. Find a reliable hosting platform,
3. Create my WordPress site and choose a theme,
4. Install some plugins,
5. Create my page about me,
6. Write my first article,…
If you complete a task, you can mark it as completed or underline it. This will give you an idea of the tasks accomplished and those that remain to be accomplished.
5. Treat it like a real business
If you really want to succeed with your hustling business, you will have to treat it like a real business. You will have to work hard and believe in what you are doing. If you are neglecting the tasks you will have to accomplish in order to achieve your goal, you will certainly not succeed!
According to you, what does a side hustler must do in order to succeed in his journey?
Your comments and constructive suggestions are welcome.
And if you like this article, don't hesitate to share it with your friends!
Be an ACTION taker, SOW YOUR SEED TODAY!!
Sebastian,
To your success!!!!