New to affiliate marketing?
Don't know what affiliate marketing is and how does it work?
Don't worry!
This short guide will give you more details and tips to make money with affiliate marketing.
Without further ado, let's dive in.
What is affiliate marketing?
Affiliate marketing is a business model where an affiliate promotes another person's or company's products or services for a commission.
That means you don't need to create your own product or service to get started.
You just find a company or brand you like and that has its products or service, partner with the company owner to help him spread the word, and when someone buys his products or services you get rewarded for your marketing effort.
It is a business where everyone wins.
Instead of spending huge money to advertise their products, companies reward other people (affiliates) for every sale they generate to reach people they could not reach with any means.
In affiliate marketing there are generally 3 parties in the marketing chain:
The merchant or vendor: he is the one who has products or services and looking for people to help him spread the word.
The affiliate: he is the one that promotes the vendor products or services to get paid a commission.
The customer: he is the one the vendor's products or services were designed for and the one the affiliate tends to reach with his marketing effort.
In certain cases, we have another party called the affiliate network. It acts as a middle man between the affiliate and the vendor. He also handles the payment, the promotion tools, tracking, etc.
Now you know what is affiliate marketing, let's find out how does affiliate marketing works.
How does affiliate marketing work?
As defined, in affiliate marketing you make money by marketing other people's products or services online.
So here is how basically affiliate marketing work:
You partner with a product owner or a company like Amazon, eBay, or any company that offers an affiliate program,
Your partner provides to you with promotional materials such as links, banners, email swipes files, etc to market his products or services,
You promote your partner's products or services to your audience,
Someone buy the product or service through your unique affiliate link,
Thanks to a tracking system the merchant tracks the clicks and the order and then assign the sale on your account,
He delivers the product to the customer and then pays you a commission that is a percentage of the price of the product.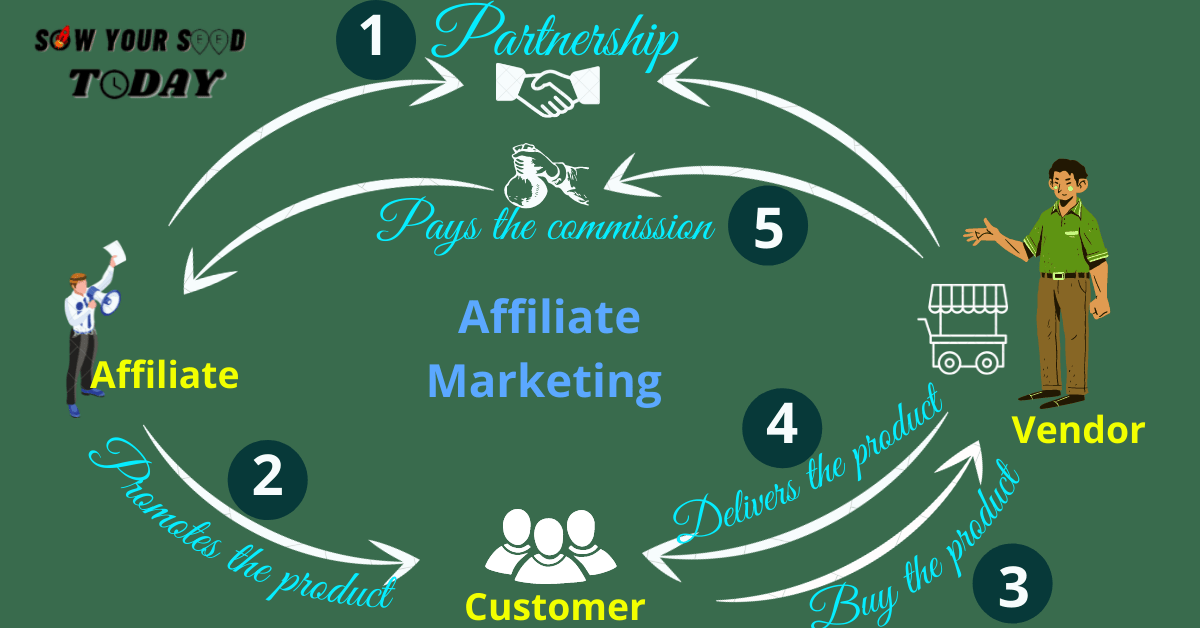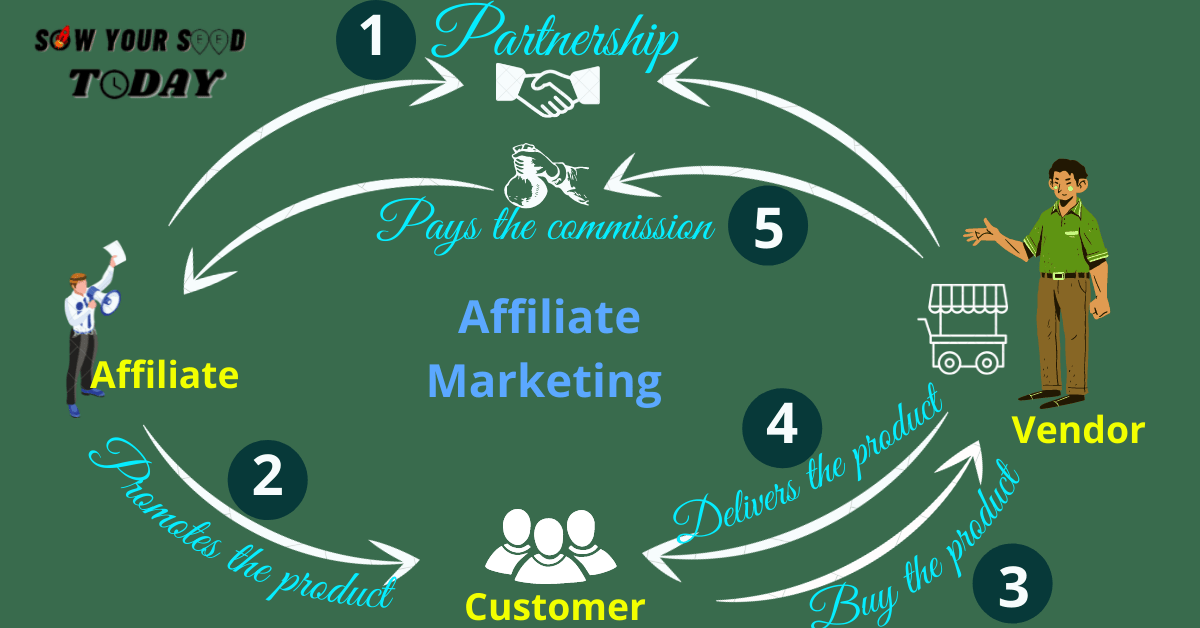 Sound simple?
Yes, the concept is simple. But simple doesn't mean easy.
You see, this is a value exchange business either on the side of the customer or the merchant.
From the customer perspective, you help the customer to get what he wants, find solutions to his problems (via your favored marketing channel) and in return, he gives you a favor by purchasing the product via your affiliate link.
The cost to the customer who buys through your affiliate link is exactly the same as if he went directly to the vendor or merchant.
You can see that you the affiliate marketer give the customer value by helping in several ways, and the customer turns back the favor by purchasing the vendor's product from you.
And in most cases, he continues to get extra value even after his purchase from you. A win-win situation for both parties.
On the partnership side, it is also a value exchange.
You will notice that certain companies before they approve your partnership with their brand will take the time to check out and find out if you are a good fit for their business or not.
In other words, they will find out if you are capable to help them reach their targeted audience. If they found you are not, they say "we are sorry but we cannot together for the moment".
Some will increase your commission based on your marketing performance and so on.
So it is a value exchange business model.
What does it mean to be an affiliate marketer? ( The affiliate role).
As I said earlier affiliate marketing is about a value exchange that can be summarized like this: "help me and I help you".
So as an affiliate your role is to help people or your audience to find solutions to their problems or answers to their queries.
To be an affiliate is to be an ambassador for your partner to your target audience by getting the right message to the right people.
It's also being able to bring solutions to the problems of your target audience, knowing how to respond to their needs, ect.
In a nutshell, your role is to help your business partners to sell their products and/or services.
What does it mean to be a merchant or vendor? ( The vendor role)
The vendor or merchant, also known as the advertiser is the one who creates the product or the service.
In other words, he is the one who has his own product or service.
His role as a vendor or advertiser is to:
Provide marketing tools to you, the affiliate,
Use tracking system or software to not only track the clicks you, the affiliate get with your marketing campaign, but also track the sales made from your links and then assign the commission on your account,
Reward you, the affiliate for all the commissions he made,
Your role with respect to the customer is to offer value to its then through its product or service he has created,
Deliver the product or service once the customer completes his order,
Provide support and assistance to his customers' queries.
Want to start your own affiliate program?
Join this all-in-one marketing platform to grow your sale.
How Much Does It Cost To Start An Affiliate Marketing Business?
Starting an affiliate marketing business is not free as certain gurus claim it, just to sell you their info products or courses and make money from your purchase.
As I said, you don't need to create your own product not to deal with inventory and clients support. So the cost of creating the product is cut off.
But…
Let's face it.
Theoretically it is free as you can just join an affiliate program or affiliate network, grab your affiliate link and start sharing it with people online.
If by chance someone clicks on this link and buys the product, you make a commission.
But things don't work this way.
You need to not only build an audience that likely has an interest in what you are promoting, but you also need tools to run your affiliate marketing business.
It is a business and any business requires a start-up cost.
The bottom line is you can start for free, but if you want to treat it like a business, you need to invest in your business.
That means buying a course to learn the fundamentals and the best strategies but also tools to run your business.
The cost to get started depends on the marketing medium you choose.
For example, with SEO like using a blog, with under $100 you can get started with Bluehost. A domain name + hosting is enough for that.
Check out my top best Blogging tools for small businesses to find out what you need to run a profitable affiliate marketing website.
If you will use social media like YouTube, you will need at least a landing page and an email marketing tool.
The cost here depends on your goal because there are free tools to get started.
Is affiliate marketing profitable?
This is a great question!
Affiliate marketing is profitable.
Not just simple words. I myself make consistent and passive income from it.
Take a look at the screenshot below.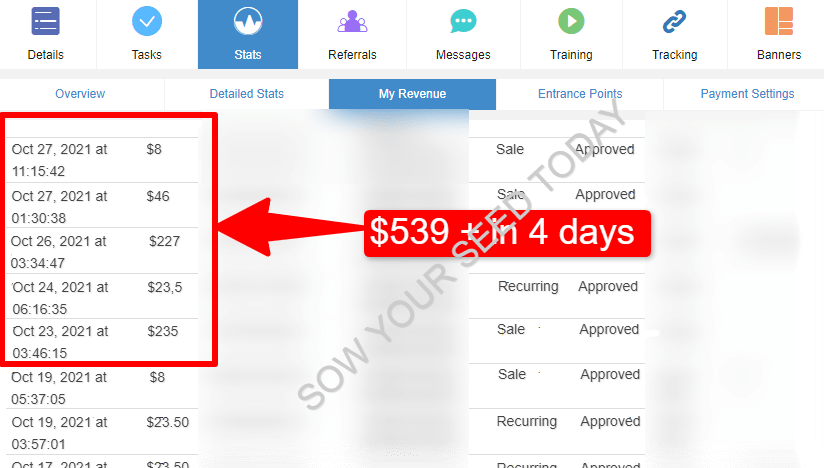 So it is a profitable business model and most people like Jonathan Montonyan have been able to quit their desk job to go full-time online in less than a year doing it.
You can check out his training course here to learn how he did it and how you too can achieve it.
How to get started with affiliate marketing the right way?
To be straightforward, if you want to start with affiliate marketing the right way and avoid the errors most beginners make and that lead them to failure, here is the way to go in 4 simple steps:
Step 1: Buy a training course and learn the fundamentals
This will help you avoid trials and errors and shorten your path to success.
Keep in mind knowledge is power in this digital world.
You cannot be successful no matter the business model you embrace without knowing how to properly go about it.
Check out my top best training courses to pick one and get started.
Step 2: Choose a niche and a winning product to promote
The next step after you know the how and the strategy to build a successful affiliate marketing business, is to choose a niche and a product or service you are proud to promote.
This is very important because as I said at the beginning of this guide, affiliate marketing is about an exchange of value.
A niche will help you build authority and trust faster than going too broad.
In fact, if you are selling to everyone, you are selling to no one.
The same goes for the product. Choose a product that will bring value to your audience's life and stick to it until you start making consistent income before adding other products. At least don't try to promote 3 products plus at the same time at the start.
Step 3: Build your audience
This is the most important part of starting your affiliate marketing business the right way.
Without an audience listening to your voice, you can not sell.
But the heck and where most fail is there.
How to build your audience and market your offer efficiently?
The short answer is to go where your audience is and to use the marketing method and strategy you are good at.
If you are an introvert like me and don't want to talk directly with people on Facebook, go with Blogging and use the power of SEO to attract your ideal prospects or future customers and then promote your offer to them.
Blogging is about commutating with people, but silently. No need to talk directly with your audience.
If talking or communication is where you are good at social media marketing or video marketing on YouTube is the best way to go.
Email marketing is also an option out there and it can be combined no matter the marketing medium you choose.
Step 3: Promote your product to your audience and make money
Once you have people listing to you, it is time to start promoting your affiliate offer. If the audience you managed to build is very targeted to your offer, you will see a good conversation rate with your promotion or marketing campaigns.
To learn more, read my articles on how to market efficiently your products online and also my guide on how to start an affiliate marketing business.
Last thoughts
Affiliate marketing is a rewarding business model and everyone can make money online doing it.
No matter your background and education level, if you have access to the Internet connection, and have a laptop,…
If you have the willingness to learn, apply the right strategy, and be consistent and persistent, then you can make a consistent and passive income online with affiliate marketing.
That being said, I hope you found my guide on what is affiliate marketing and how to get started helpful.
Take action today and start your true freedom journey with the leading affiliate marketing platform today.
Training and tools are provided at a cost of a hamburger.
To your success!
Be an ACTION taker, SOW YOUR SEED TODAY!
You may also like…