Hi, and welcome to my website.
Do you want to know what is Digistore24? Or are you looking for an honest and unbiased Digistore24 review to make an informed decision?
Whatever the reason that brings you here, if you want information about Digistore24 (D24), you are in the right place.
Throughout my Digistore24 review, we will delve deeper into the following points:
How does Digitstore24 can help you grow your online business?
Ways to make money with Digistore24.
Without further ado, let's jump straight into my Digistore24 review to find out what exactly Digistore24 is.
Digistore24 review summary: Company overview
Company name: Digistore24 Inc
Website: https://digistore24.com
Owner: Sven Platte
Product/service: Affiliate marketing network
Cost: Free
Is Digistore24 Legit: YES
Sow Your Seed Today Rating: 9.5/10
Do I recommend this? Yes
What is Digistore24 about?

Digistore24 is an online marketplace like ClickBank where vendors and publishers can meet themselves and then grow their online business.
In other words, Digitstore24 is an affiliate network. It acts as a middleman between vendors and publishers (you and me) who are looking for some products or services to promote.
Digitstore24 vendors' benefits
Here are some of the advantages you get as a vendor on the Digistore24 affiliate network:
Digitstore24 has set up a complete sales and payment system, and as a vendor or product manufacturer, you can list your products or services on the market and get qualified partners that will market your product for you.
Digitstore24 at the same time takes care of the delivery of your products,
handles your customers' questions and sales processing for you,
A complete beginner-friendly guide that will help you set up, optimize and automate your sales processes.
They also provide all the details of your business via an intuitive dashboard.
Digitstore24 publishers' benefits
There are many advantages to join DIgistore24 as an affiliate marketer or blogger.
Here are the advantages D24 offers to affiliates:
Affiliate application approval is immediate.
Products are listed by category making the process of finding an offer or product to promote very easy.
They offer many payment methods such as Bank transfer, Paypal.
Unlike ClickBank, D24 is a worldwide company, and no matter where you are located you can find products to promote and get paid. A better alternative to ClickBank if your country is restricted.
Possibility to get paid weekly, bi-weekly or monthly.
The payout threshold is low ($50 for monthly payment option).
Commission rate ranges from 15% – 90%.
Let's now move on to the next section of my Digistore24 review, to find out how does it work.
How does Digistore24 work?
Like any affiliate network, Digistore24 works like this:
Whether you are a vendor or an affiliate, the first step is to sign up. You can sign up as a vendor or an affiliate (or both at the same time).
Once you sign up, you will see your dashboard like this one below:


As I pointed it above, if you sign up as an affiliate and you are looking for a product or service to promote, you can browse them by category and choose an offer you love to promote.
Let's say you are in the make money online niche and you are looking for products in this niche to promote. What you need to do is to click on the Internet marketing & E-business category, and all the products of this category will be displayed based on the sales volume.
As you can see below, a product like work at home secret & scam workbook by Jonh Crestani has a 90% commission rate. That said, you will make about $35 per month if you refer a customer to his course.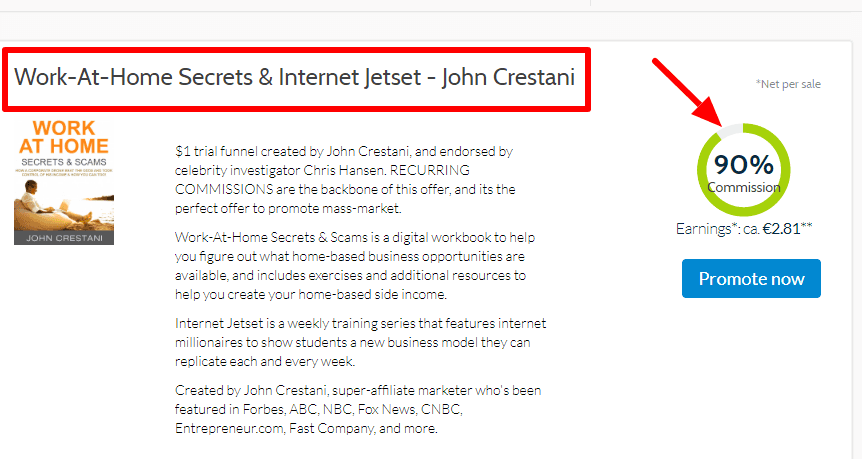 If you are a vendor and you are looking for affiliates to promote your products or services, you can also add your product or service by switching on your vendor account.


Once in your vendor account, click on Account, Product, the add product button and then fill out the form below by following the instruction provided. Once all the setting up processes is finished, your product or service will be listed on the Digistore24 marketplace and ready for promotion.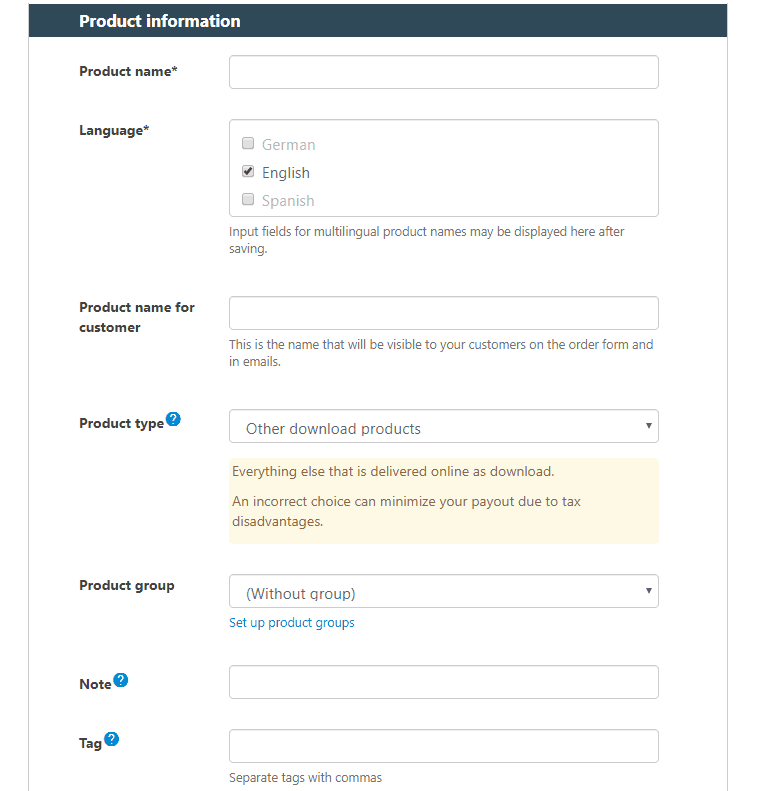 If you don't know how to fill it out, you can learn how to do that by checked out their step by step guide for product listing.
How to make money with Digistore24?
There are 2 mains ways to make money with D24:
Make money with Digistore24 as a vendor or advertiser
Digistore24 is a marketplace that connects vendors and affiliates together. If you are a product or service provider, you can add your product/service to the marketplace as I described it above and get affiliates that will help you sell your products. This is a win-win situation. You get your product/service in front of people you cannot ever reach in any way lonely and also sales.
The best part is that D24 allows you to sell both digital and physical products, unlike ClickBank, where you can only sell digital products.
It is so easy to make money with D24 as the below image describes it:

List your product on the marketplace, and get affiliate marketers to promote it for you,
Affiliate send customers on your sales page.
They click on the "buy now" button and then buy your product via a secured payment gateway handle by D24.
You receive your money through D24.
Make money as an affiliate marketer or publisher

If you are an affiliate marketer or a blogger and ClickBank is not available in your country, so you will love D24.
This is #1 alternative to ClickBank as well. Clickbetter is another online marketplace for digital products. But Digitstore24 is better than Clickbetter.
Know you may wondering how to make money with D24 as an affiliate.
All right.
Let me show you 3 ways to make money with Digistore24.
I guess you signed up. Right?
If you want to make money with Digitstore24, the first step is to choose a niche.
A niche is a market segment that has its own particular needs or preferences you can build a business around.
You can find a profitable niche by doing a very thorough research and market analysis.
You can also build your business based on your passion or interest.
Pro tip: When choosing your niche, choose an evergreen niche, and tailor your niche until you find a niche with low competition level.
Related post: How to choose a profitable niche.
Step #2: Choose a winning product
A winning product means a good product with a high commission volume. A good product is a high-quality product that gives value to your audience (customers).
Keep in mind, on the Internet, your reputation is very important. So if you choose a poor product (because it has a high commission rate) that doesn't give value to customers, it will be difficult for you to build a long term online business.
If you want to build a successful affiliate marketing business that will make you money on autopilot, building a website or a blog is very important.
There are many reasons to create a blog for your affiliate marketing business.
In fact, a blog can help you attract your targeted audience organically and free, build a brand, a trust relationship, and then sell to them again and again.
Sure, you can do affiliate marketing without a blog or website, but you cannot make a sustainable income that way. Because people nowadays care about Value.
So it is not by pulling your affiliate link here and there, you will be a successful affiliate marketer.
Fortunately, building an affiliate marketing website nowadays is easy, and it doesn't require a huge budget.
With just $2.95 per month, you can start a blog with Bluehost and build a successful affiliate marketing business.
But if you are like me, you will prefer an All-In-One affiliate marketing platform like Wealthy Affiliate where you can get:
An evergreen affiliate marketing training (priceless),
Web hosting service (build up to 10 websites),
Keyword research tool ($19 value),
If you found that blogging is not for you, another best option is video marketing. You can just create a YouTube account (free to sign up) and start creating videos, build a community and then start promoting your offer.
If this is what you prefer, here is the best screencast and video editing tool I use myself for my YouTube channel.
Active Presenter: a free Screen Recorder, Video Editor & eLearning Authoring Software.
But let me tell you, we are not in 1960. Smart affiliate marketers use not only both (blog and YouTube) but also, they build a mailing list.
Fortunately, there are free email marketing tools you can use to do email marketing such as:
Aweber (free up to 500 email list size), best for affiliate marketers and bloggers
Sendstend, (no mailing list size),
Mailchimp (free up to 2000 email list size). Not recommended for affiliate marketers because they didn't allow people to use affiliate links in their email campaigns).
Getresponse (30-days free trial) you can use. Best for businesses who want an all in one email marketing tool.
Before I end this Digistore24 review, I want to answer some questions people frequently ask themselves.
My Digistore24 Frequently Asked Question (FAQ)
What is Digistore24?
In a nutshell, Digistore24 is an affiliate network (just like ClickBank) that acts as a middleman between vendors and affiliates.
Is Digistore24 Worldwide?
Yes, Digistore24 is a worldwide company. Whatever your geographical location, the doors of D24 are wide open for you. It is a better alternative to ClickBank.
Is Digistore24 a scam?
Are you wondering if Digistore24 is legit or a scam? Let me answer your question straightforward. No. Digistore24 is not a scam. D24 is a Europe's leading affiliate network that helped online entrepreneurs in 2019 to generate over 250 million in revenue and it is been featured on Inc, The Wall Street Journal, and the Startup Valley.
How to use Digistore24 to sell my product or make money as an affiliate?
To use D24, you just need to create an account on their website. Whether you want to sell or promote products, you can register as a seller and affiliate at the same time.
What is important is that there is a user-friendly guide on the platform for sellers and affiliates. You can follow their guide to get started.
What is Digistore24 payment methods?
Digistore24 offers various payment methods such as Bank Transfer, Paypal, etc. That makes them a top choice for online entrepreneurs in countries that do not support Paypal.
Digistore24 review: Wrapping up…
If your sole question was: Is Digistore24 legit or a scam?
So I think you have the answer to your question because Digistore24 is not a scam.
Digitstore24 is a worldwide online marketplace that connects product manufacturers and affiliates together. Whatever, you are looking for an affiliate network to sell your product or service, or you are an affiliate marketer looking for products/services to promote and get paid to your Bank account or via Paypal, you will love D24.
With over $250 million in revenue generated in 2019 and over 8,000 products in all categories, D24 is a platform that can help you grow your business.
The best part is that it is free to sign up and even as a vendor you can start selling without spending a dime.
I hope you found my Digistore24 review helpful.
From now, you know what is Digistore24, how does it work, and how to use it to your advantage.
Do you have a question about D24? Drop it down in the comment section and I will respond to you ASAP.
Be an ACTION taker, Sow Your Seed Today.
To your success!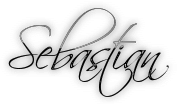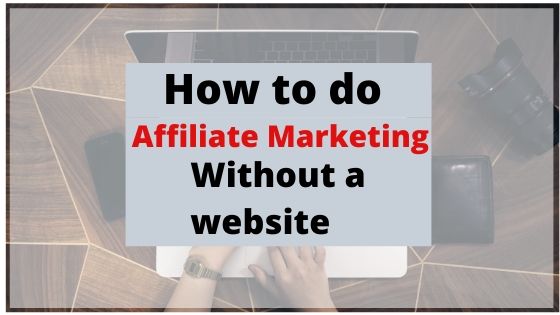 Do you want to learn how to do affiliate marketing without a website in 2021?…